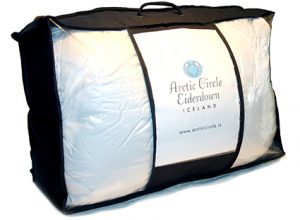 Icelandic Eiderdown Duvet
Filling: 100% finest Iceland Eiderdown, selected quality, class1
Cover: Finest Eiderdown-Batist, 100% finest Egyptian cotton, super-combed.
Colour: Arctic White
Size: We can provide all standard North American or European sizes, or tailor-made to suit your requirements. Special orders require approximately 6 weeks lead time.
Care: Dry clean.
Info: Our duvets are handcrafted in Iceland from our finest handpicked Eiderdown, selected according to high quality standards.
We offer a unique thermal unit system, which allows you to choose your duvet by weight; TU1, extra light, applicable for warm bedrooms, and TU5, extra warm, applicable for cold bedrooms.
You may wish to choose a duvet for every season or just one for year round use.
Available in Thermal Units 2,3,4.
To contact us for information or to order an original Arctic Circle Eiderdown Duvet send us a line:
margret@arcticcircle.is